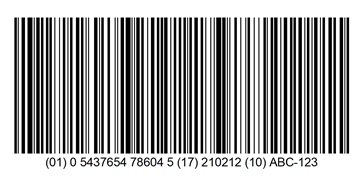 The GS1-128 barcode is suitable for scanning in logistics environments and not for retail POS scanning. 
This type of barcode is used on the logistics label and often on outer packaging such as boxes, pallets and reusable containers. 
In addition to a GTIN the GS1-128 barcode can also include different GS1 identification keys (such as a SSCC and/or GLN) and additional information such as a lot number and expiry date. This information is encoded using Application Identifiers. It can combine different data with a maximum length of 48 alphanumeric characters and a maximum width of 16.5 cm. 
Please note: the GS1-128 barcode is different to CODE 128. The latter is not a GS1 barcode.