What is a logistics label, what information does it contain and where do you affix it?
A logistics label is a standardised label that is affixed to a logistic unit.
In many cases, in addition to the Serial Shipping Container Code (SSCC) that uniquely identifies the logistics unit worldwide, it also contains other data such as the Global Trade Item Number (GTIN) of the product that is part of the logistics unit, the number of packages, lot number and best before date. 
The data is listed in human readable form as well as encoded in GS1-128-barcodes. Thus, not only can production operators, warehouse staff or transporters read the data, but when scanned, it is also automatically read by production (MES), warehouse (WMS), transport management (TMS) or other software. 
The label is affixed to two adjacent sides at a fixed position from the edges of the logistics unit.  
Want more info about the GS1 logistics label?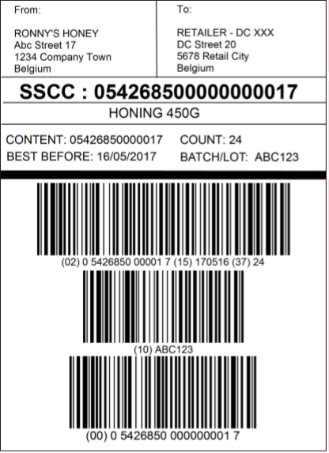 How to make a logistics label
Hardware and software 
You need software in which the logistics label is created and a printer to print it. 
There are several options for the software: 
Your internal software such as ERP, production management (MES), warehouse management (WMS), transport management system (TMS), etc. can potentially create logistics labels. Always ask your current software supplier first. They may have a partner that can offer this in conjunction with the existing software. 
You can use specific barcode software. 
If you implement the logistics label together with the electronic delivery note and use a webEDI solution, you may also be able to create the logistics label with that tool. 
Are you still looking for software or hardware to generate and/or print barcodes?   
Consult our Solution Provider Finder. 
Design
If you design the GS1 Logistics Label yourself using software, you will find all the details about the form and content of the logistics label in the international manual. Possible exceptions in the Belgian and/or Luxembourg market are listed in our regional annex.  It may be a good idea to read this brief instruction manual first.
Have your label verified by us 
Tip: have your first logistics label verified by our barcode verification service. This service is free for members. Do this before the labels come into circulation! 
Can't find what you are looking for?