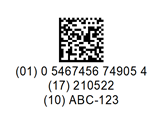 The GS1 DataMatrix (ISO version ECC 200) is a 2-dimensional (2D) barcode which is mainly used to encode a lot of data in a very small barcode. For reading 2D barcodes, an image-based scanner is required. 
The GS1 DataMatrix is mainly used in the healthcare sector and the FMCG-sector for consumer units of variable weight. 
Aside from a GTIN, other GS1 identification keys and additional information can also be encoded, such as lot number and expiry date. This information is encoded based on Application Identifiers. 

Up to 3116 numeric characters and 2335 alphanumeric characters can be encoded.