"Now we just have to convince suppliers of the benefits of eOrdering"
In an ideal world, the ordering process could be handled entirely automatically via Peppol, says Dirk Verreyen, Project Manager at the eOrdering Working Group of the Flemish Government. The working group has been testing its implementation of Peppol eOrdering since 2016. The pilot project is now on the brink of rollout. As a Peppol expert, GS1 Belgium & Luxembourg is supporting the team in all technical aspects of the process, as well as providing advice and assistance with procedural testing.
If you are still wondering whether the future is digital and electronic, Dirk Verreyen is not. His answer is a resounding: 'Yes'. Begun in 2016, the eOrdering Working Group consists of various partners, each with a distinct role within the eOrdering process. MAGDA, the Flemish Government's service integrator, along with Mercurius, the central distribution hub for federal government electronic documents, have joined forces with other organisations for the project. In 2017, the group started a pilot project with VDAB on the customer side and PROSAFCO as supplier. Over time, GS1 Belgium & Luxembourg also joined the group as a knowledge centre for Peppol. 
The fact that GS1 joined the working group meant the process became much more straightforward for Dirk Verreyen. "GS1 is our direct helpline for all the technical aspects of Peppol and we can also fall back on their network. Thanks to them, we can stay informed about the latest updates and trends within Peppol. Moreover, GS1 is also the contact point for suppliers who have questions about electronic invoicing using Peppol, so that the Flemish Government is not the primary contact for this kind of communication. This will also be the case for electronic orders."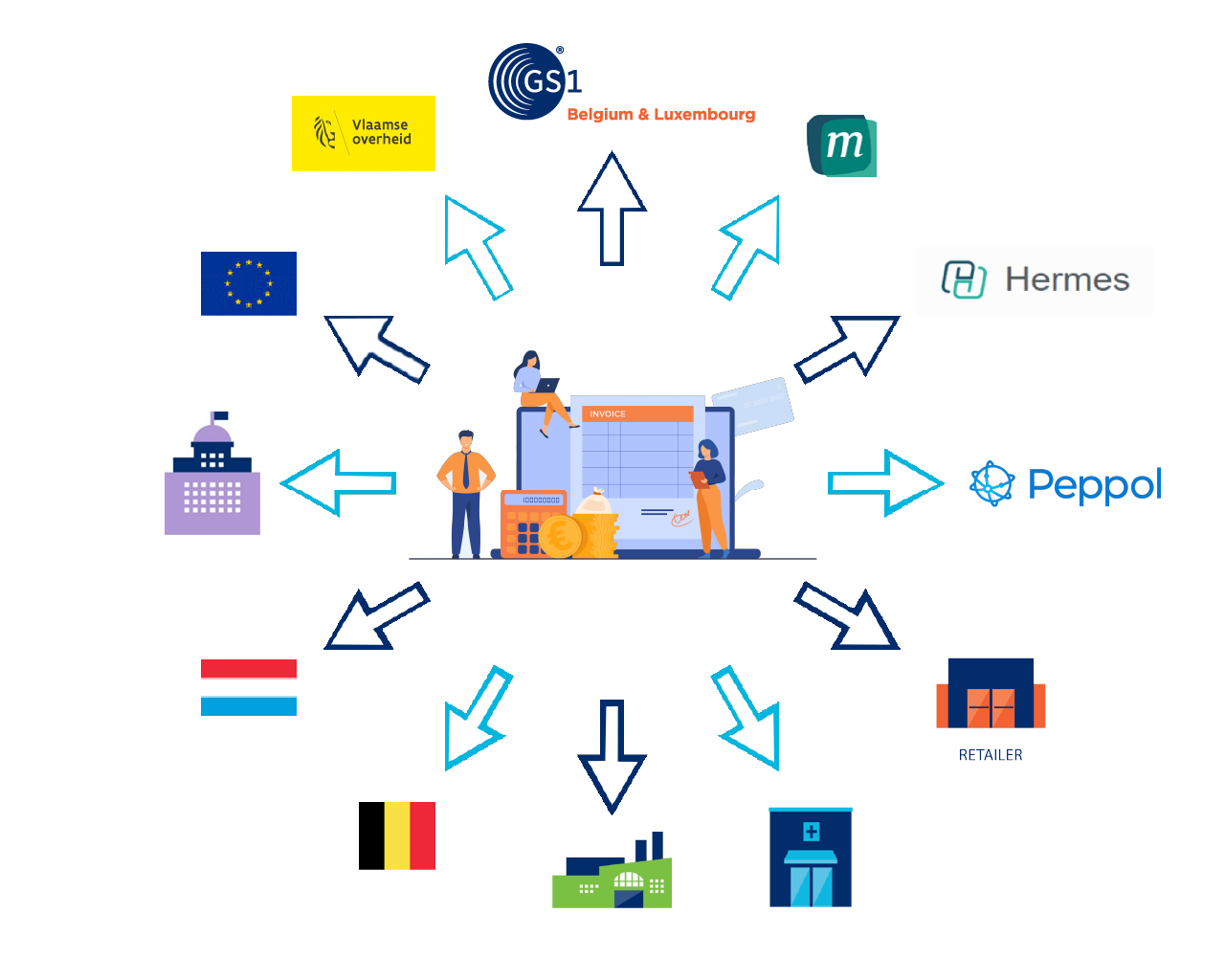 Independent and efficient
"We started the project to become independent of suppliers. Most ERP packages already contain eOrdering elements, but they do not comply with the Peppol standard. As these are usually point-to-point implementations, you are dependent on the ERP systems of both the customer and supplier", says Dirk Verreyen. That is why they decided to roll out Peppol eOrdering; to establish a single standard for eOrdering. Additionally, eInvoicing within the Flemish Government is also based on Peppol, which facilitates linking eOrders and eInvoices directly to each other. "It simplifies your accounting process immensely. You can use it to approve invoices based on the order form."
Leading the way by trial and error
 "At the start of the pilot project, it was important to us not to overburden the supplier. Peppol provides an Order Response as standard, but we left it out in the beginning so as not to require the supplier having to make too many changes", Dirk explains. However, this resulted in the follow-up process becoming more difficult when orders occasionally disappeared or failed to arrive. That is why the working group decided to include Order Response in the process.
The Mercurius platform now also offers eOrdering, but it too now looks at what the eOrdering team of the Flemish Government is doing. "Like us, Mercurius did not initially have Order Response. When we introduced it, they followed suit, and they adopted the guidelines we set up for it, too." Order Response has been live since the beginning of April, following multiple tests of various scenarios between VDAB and GS1, in the role of test supplier. 
Peppol as a common language
When we asked Dirk to tell us about the ideal scenario, he described it as a situation in which the entire order-to-cash flow used Peppol. "The eInvoices are already well established. If we are able to add eOrders, the benefit will be apparent immediately because all the information comes through to your financial system directly. This will save you time and expense, and you will be better able to monitor your budget." 
"Switching to a Peppol eOrdering system is also attractive for larger suppliers who often supply various public institutions, all of which use Peppol. It alleviates having to focus on specific point-to-point eOrdering. You can use Peppol for multiple customers. This may also have added value in public tenders: after all, you already have a system that works."

Looking ahead
Of course, the story does not end here. The next step is applying eOrdering to as many ordering processes as possible, such as orders for services, stock management by an external party and last-minute catering orders. For instance, changes to an order are now usually resolved by telephone. It remains to be seen how this can also be done quickly and efficiently in an electronic way.
So, for the time being, this feature is some ways off. Now that Order Response is live, the issue at hand is monitoring whether any orders get lost. As soon as that functions well, more suppliers can join the project. "This is a pilot project, but we have now reached the tipping point. The project is now sufficiently developed for rollout," concludes Dirk Verreyen.