In order to prepare for the audit of your product data, we ask you to perform a few tasks: 
Validation rules outcome
In the My Product Manager report you can find any errors or warnings related to your products. In order not to disrupt the audit process and to increase the chances of a good 'first time right' audit score, it is recommended to solve these errors and warnings prior to the audit. 
Requesting an exemption
If you believe that one or more of the selected products meets the criteria for exemption, please report this via the sector help desk. In your email, please mention the audit programme and 'exemption' in the subject line and state which product(s) and for which reason you are submitting the application. You will then be informed of the assessment:
If the application is assessed to be unjustified and therefore does not result in an exemption, there is no change and you will be asked to proceed with the following steps in the roadmap. The product will remain in 'new' status.
If the request is assessed to be justified, the product receives the status 'exempt' in the 'My Audits' application, and a new product with the status 'new' will be offered as an alternative. 
 

Images/artwork 
Before the audit can start, a minimum of one (and maximum of six) photo(s) or artwork must be linked to each of the products for which an exemption request is pending. Without photo(s) or artwork, the audit cannot commence. The formats accepted for photos or artwork are: JPEG/PNG/TIFF and PDF.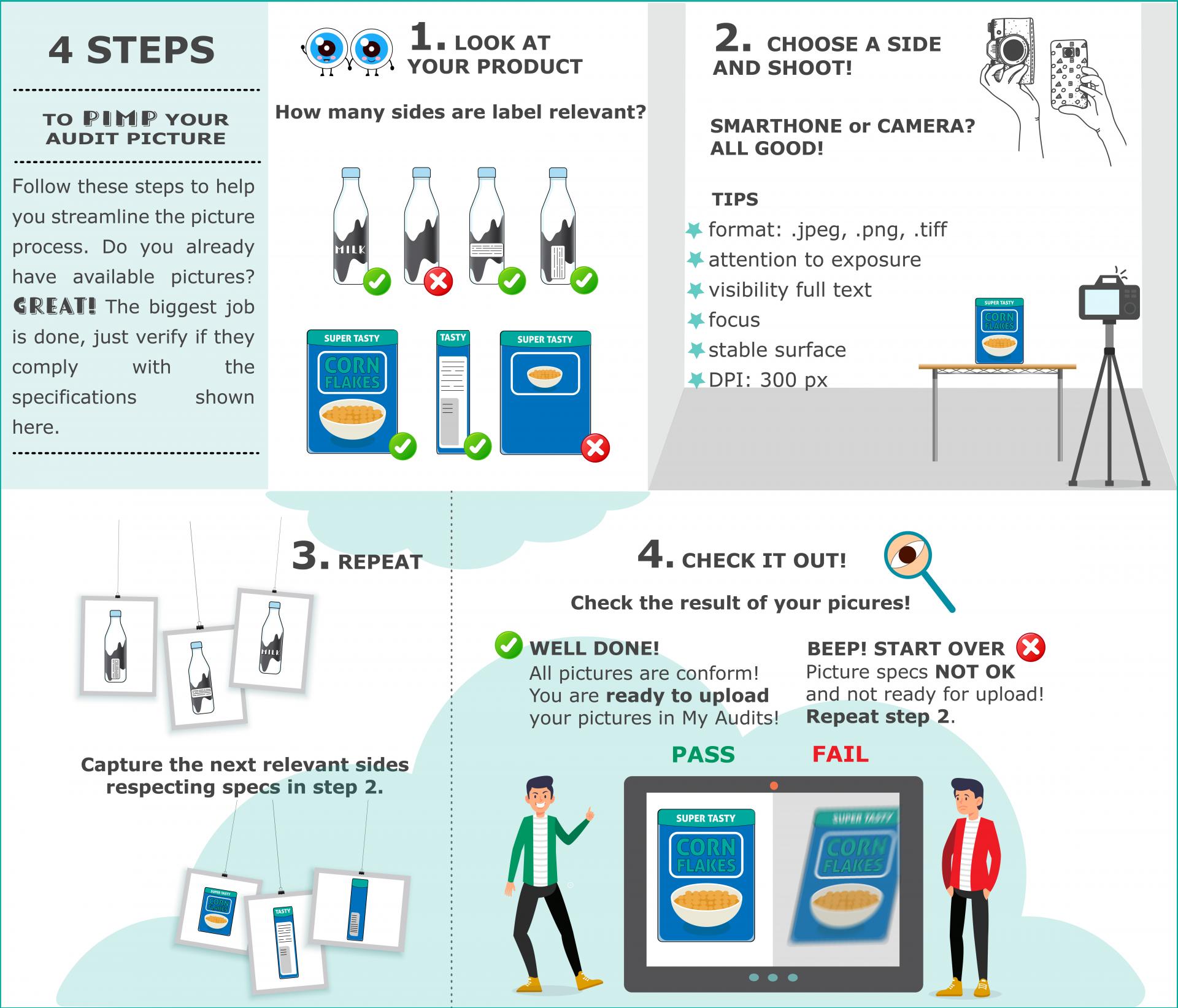 The guidelines regarding photographs and artwork specifications must always be observed and are of great importance for the smooth and correct execution of the audit. 
After the products are ready for you in the My Audits application, you have four weeks to correct or complete product information in My Product Manager, to request an exemption, upload the images/artwork and request the audit start (see the following section). 
 
Audit start
Once the preliminary steps have been performed, you can officially approve and start the audit per product by pressing the 'start audit' button. Each product for which you start the audit is given 'requested' status in the overview and will then be audited (see next step). 
NOTE:
When you start the audit, a "snapshot" of the data in My Product Manager is taken. Information changed in My Product Manager after the snapshot is taken is included in the audit.