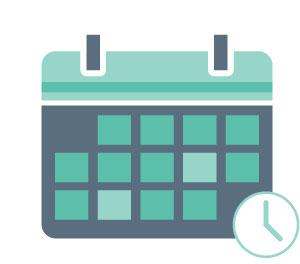 Per iteration
The audit programme lasts two years and is divided into 8 periodes (called iteration). During this period, a new sample is taken from the product range every iteration and you will be notified via e-mail that new products are ready for audit. These products are displayed with the status 'new' in the overview in the 'My Audits' application. 
Exception:
Suppliers with fewer than 40 products at the start of the audit programme in My Product Manager will be surveyed every two iteration (4 times in total). As of 41 products in My Product Manager, the supplier will be surveyed every iteration (8 times in total). At the beginning of the audit programme, each supplier is affected to a group based on the size of its assortment at that time. Important: although the percentage of audited products is the same for both groups, the frequency of contact is different. 
Selection criteria 
The products for the sample are selected on the basis of the following criteria: 
Size of the assortment.
Product characteristics: within the range, only pre-packaged food products that are a consumer unit (i.e. also multi-packs) will be considered. 
National brand products: private label products are out of scope.
Focus on recent products: the sample will be conducted on 80% recent and 20% less recent products. In case insufficient recent products can be selected, the sample will be further completed with other products.
Linked to a reward mechanism
If you achieve a good score for your product information during the audit, you will be rewarded. In the next iteration, as soon as you achieve an average 'first time right' audit score of 96%, your sample will be reduced. That is: the product sheets achieve an average score of 96 %.  
In the first iteration, each supplier starts in the 50% sample category. The lower category is 10%, the higher category 100%.
 
A practical example: 
A practical example: a supplier with a range of 160 products that are eligible for audit. In the first iteration, 20 products are selected for audit (160 products/8 iterations x 50%). Is the average score of these 20 products 96%? Then in the next quarter only 2 products (160 products/8 iterations x 10%) will be requested for audit. PLEASE NOTE: if the average 'first time right' audit percentage in the iteration is lower than 96 %, the supplier will return to the higher sample category in a subsequent iteration.